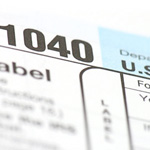 The following are suggested tax tips to reduce your 2015 taxes and help you be better prepared for amounts that may be due with your 2016 return.
Adjust Withholdings and Estimates
Taxpayers should look at whether their withholdings and estimated tax payments are sufficient to cover their 2015 tax liability. If a taxpayer owes with their 2014 return, it is generally easier to adjust withholdings and pay a little along, during the year, rather than having a big tax bill in April. Further, if you owe on your 2015 tax return, you could be subject to penalties for inadequate withholdings and estimated tax payments.